About OSC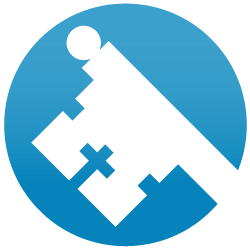 Open Source Catholic was started in 2009 during the Catholic New Media Convention (actually, on the plane rides there and back) by Jeff Geerling, based on some ideas he had discussed with many other Catholic techies over the preceding year.
On this site, Catholics who are interested in discovering and sharing new ways of communicating the Gospel Message of Jesus Christ to the faithful in the Church can do so.
Our logo, which displays one of the keys to the Church (as seen on the Papal coat of arms), was designed by Tim Canny; he's a graphic designer from Philadelphia who likes to make logos and icons. He would be happy to talk to you about your design needs, and, as evidenced by the logo, he does great work! If you'd like a larger copy of the logo, click on the logo and you'll be taken to a 1000px wide transparent PNG.
How Can I Help?
You can help this website by doing one of many things:
Comment on and rate other's postings on the website.
Register and post new content, projects, forum topics, etc. to the website.
Pray for the Church (it works wonders!).
Expand and add to our Open Source Catholic Wiki.
Setting Up Your Account
When you set up an account on Open Source Catholic, you can easily add your website, your name, and more to your OSC profile - just go to your "My Account" page, and click the "Edit" tab. You can then edit your profile. You can also attach a picture of yourself so it's easier to identify you.
How do I Get my Article/Blog Entry on the Front Page?
Every now and then, an article or blog entry will be chosen to be published to the front page. The front page promotion overlord has mysterious ways, but I hear you can appease him by writing especially thoughtful and meaningful articles, illustrating them as best you can, and using proper grammar!
Also, sort your article/posting into relevant sections (much like this page), following our style guide: basically, write with short, concise sentences, heading 3 for section headers, and proper English.
What are these "Graces" I Keep Seeing?
Every time a user posts a new item (be it a comment, article, etc.), he receives a certain number of 'graces' from the website.
Can I Copy Content from Open Source Catholic?
We're happy to share all of our information with as many people as possible, and we love having others spread the word through their own blogs and websites, but please don't blindly copy and paste everything to another site. We'd much rather you post a snippet and then link back to our site for the full posting.
How do I Become a Moderator?
If you're interested in helping moderate, edit, and manage content on this website, or would like to be on the core development team, please send an email to Jeff Geerling (link in the footer at the bottom of this page), and be sure to include relevant information (examples of your work, your website, etc. - anything that will help us determine that you'd be a good moderator!).